Hospital Support Tax Passes by 93%
Posted on Wednesday, February 15th, 2023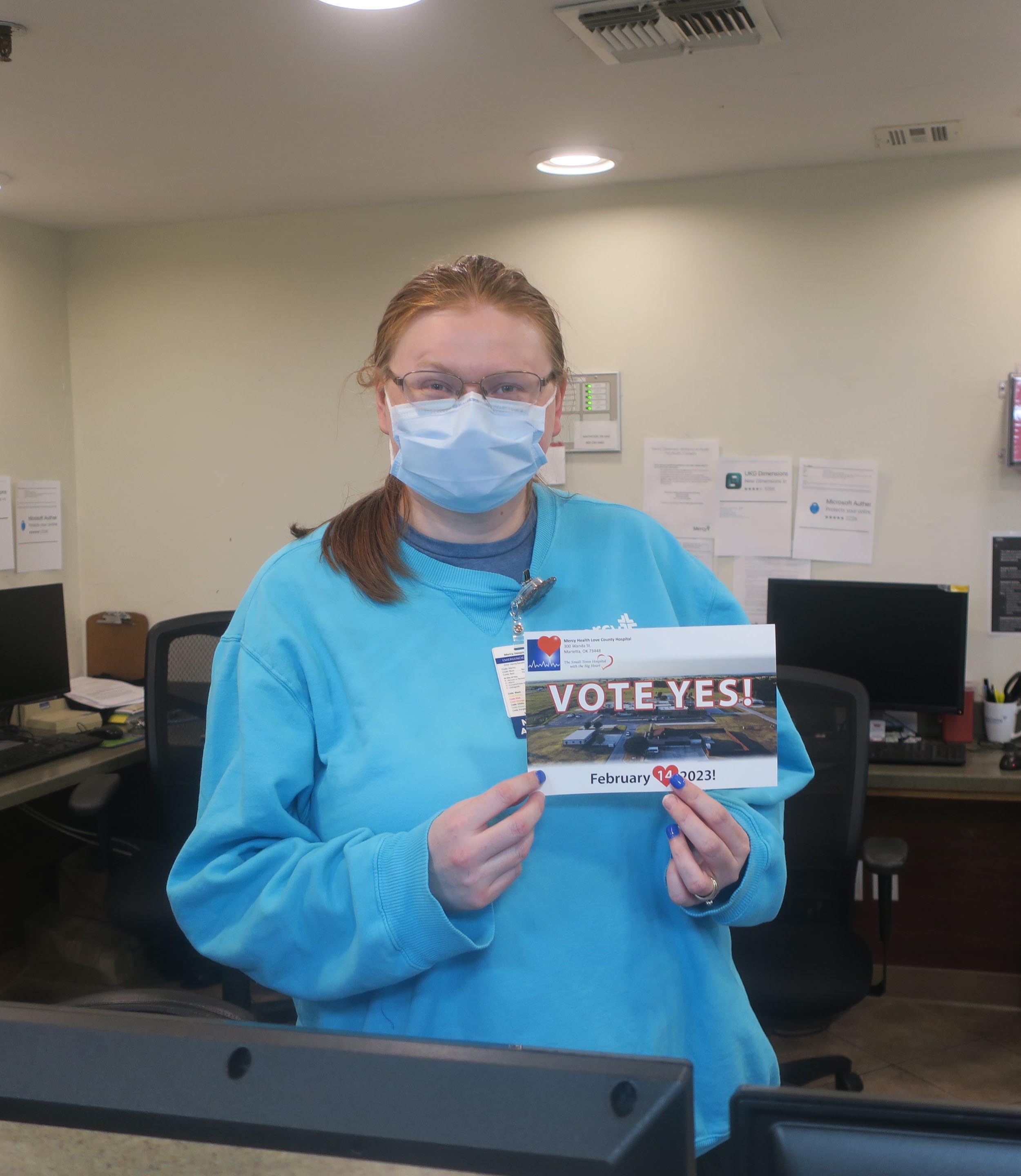 Prayer Answered:

Hospital CNA Laura Beck held up an election flyer at the nurse's station last week to express her hope for the outcome of the hospital sales tax election February 14.
County voters showed love for their hospital on Valentine's Day, February 14. By a 93% margin, they renewed a one-cent sales tax for 10 years to equip and maintain the Love County Health Center.
The results were 335 Yes votes and 23 No votes. The proposition passed overwhelmingly at all 10 voting precincts.
The health center includes the hospital, clinic, and EMS. The tax raises revenue of about $1.6 million per year, according to hospital administrator Scott Callender.
"We are grateful for the support shown for our coworkers and operations. Everyone here is very happy today and appreciative of the patients and other citizens who showed how much they value their local healthcare," Callender said.
Below are election results by precinct:
Precinct 101, Marietta School Auditorium – 52 Yes, 1 No
Precinct 103, Thackerville First Baptist Church – 33 Yes, 6 No
Precinct 204, Marietta First Baptist Church – 43 Yes, 3 No
Precinct 205, Turner School Auditorium – 51 Yes, 3 No
Precinct 206, Leon Community Building – 18 Yes, 3 No
Precinct 207, Rubottom Baptist Church – 27 Yes, 0 No
Precinct 310, Marietta, Love County Fair Building – 36 Yes, 3 No
Precinct 311, Greenville School – 29 Yes, 1 No
Precinct 312, Enville Community Church – 35 Yes, 2 No
Precinct 313, Eastman Baptist Church – 11 Yes, 1 No
TOTAL VOTES – 335 Yes, 23 No
The proposition was last approved on October 8, 2013, by a similar high margin of votes: 540 Yes versus 28 No.